The Kanakuk Child Protection Plan
 The Kanakuk Child Protection Plan (CPP) is a comprehensive safety system designed to prevent, detect or respond to child physical, emotional, verbal, and sexual abuse in youth programming.  The goal of the CPP is to equip youth serving organizations with a systems-based plan for safeguarding youth, detecting perpetrators,  and sustaining the organization.
"I asked two of my partners, both former United States Attorneys with vast experience in prosecuting crimes against children, to assist me in reviewing the extensive materials regarding Kanakuk's plan.  We found the materials to be well-researched, current with best thinking on how to prevent child exploitation, practical and pointed.  In our opinion, these materials evidence Kanakuk's substantial commitment to and investment of resources to the protection of children from would-be predators.  In our opinion, yours is a first-rate program."  John Ashcroft, former United States Attorney General

 
America's Reality On Child Sexual Abuse!
An estimated 7.9% of men and 19.7% of women

globally

experienced sexual abuse prior to the age of 18.

In America, 1 in 3 girls, and 1 in 5 boys are sexually molested to some degree prior to age 18 making it a prevalent occurrence in our youth culture

Only 10% of  newly identified offenders have prior record of abuse

Fewer than 10% of charged molesters are ever convicted and sentenced, leaving no searchable evidence of their actions.  They are not in the background databases!!

Background screen databases are incomplete, error prone, and often only report convictions making them less dependable in detecting prior deviant behavior.

2001 study of 197 teachers: only 26% would report familial abuse & only 11% abuse at hands of a fellow teacher

A simple set of policies, procedures and verbal "threats" to staff of appropriate conduct do not deter abusers

Kids don't tell: An average of 52 girls or 150 boys will be abused before a male abuser is charged and convicted

Strangers account for only 10% of all abuse cases, while acquaintances 90%.  This realization does not coordinate with historical prevention strategies.

Child abuse grooming techniques are now well known, documented and available.  Unfortunately, abusers have them too:   

http://www.wftv.com/news/news/170-page-child-molestation-instruction-manual-surf/nFBTL/
The Kanakuk Child Protection Plan (CPP) is a comprehensive safety system to prevent, detect, or respond to child physical, emotional, verbal, and sexual abuse in youth serving organizations.
Ron Norton, Senior Vice President for K & K Insurance Group says, "The 182 steps of child abuse prevention your program offers sets the bar for this industry."
The Philosophy
The Kanakuk CPP establishes direct and indirect defense measures to combat the very nature of abusers, and the tactics used to infiltrate youth organizations and victimize children.  Ultimately, the CPP is designed to:
Prevent would-be molesters from gaining access to minors
Detect behavior patterns and early-stage abuse tactics, and resolve prior to an occurrence
Respond promptly and effectively to allegations of child sexual abuse, both camp- and non-camp related
The Prevention Corridor
The Prevention Corridor (PC) denotes the span of time between peer/peer or adult/child appropriate and legal interaction versus inappropriate and illegal interaction.   The Prevention Corridor may span minutes, hours, days, weeks or even months, and is subject to the type of molester (see above), the method of grooming or boundary reduction, the vulnerability of victims, and the effectiveness of parental or organizational child protective measures.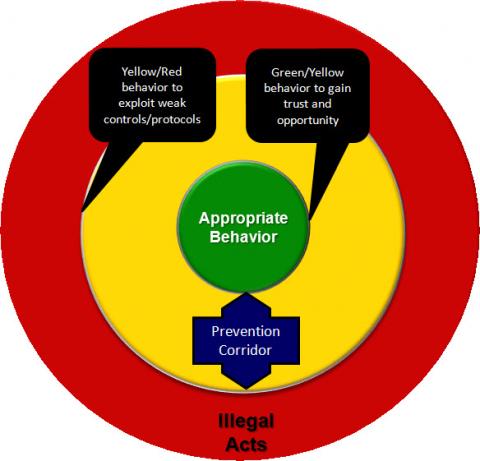 Green Region:  The green region represents legal and acceptable behavior as defined cultural expectations and/or program guidelines that comply with state laws.

Yellow Region:  The yellow region represents legal behavior, but may include suspicious, non-compliant, or inappropriate undertones or behavior patterns.

Red Region:  The red region represents illegal behavior as defined by state statute and is punishable by law.
Abusers exhibit noticeable behavior actions on the green/yellow boundary in order to gain needed trust from bystanders and gatekeepers, and to exploit opportunities.  The green/yellow regions represent the landscape whereby the first four stages of victim grooming are accomplished.
Abusers may exhibit subtle, but perhaps noticeable, behavior actions on the yellow/red boundary to exploit weak protective measures, as well as groom potential victims in progression to stage 5 of the grooming cycle.
In order to prevent child abuse scenarios, youth serving organizations, children and parents must collectively engage in effective strategies within the Prevention Corridor.
The Strategy
The Kanakuk CPP strategy consists of four Protection Zones mapping the landscape of which an abuser must navigate in order to gain access to and abuse minors.  These protection zones include the Outer Perimeter Zone, Inner Perimeter Zone, Sand Box Zone and Alamo Zone.
Within each protection zone,  six Management Fields create the framework with which to execute over 180 identifiable and measurable Protection Elements.  These Management Fields include Operational Support, Grounds/Facilities, Staffing, Training, Monitor/Report, and Crisis Response.
Ultimately, the successful execution of the Protection Elements located in the six Management Fields within each of the four Protection Zones is designed to produce one of four Abuser Remedies:
Screen Out - The remedy whereby a person is denied access to minors due to a negative background screen, reference, work verification, or red flag indicators.
Self-Select Out - The remedy whereby a potential abuser self-selects to remove themselves from the organization, or from engaging minors inappropriately.
Monitor Out - The remedy whereby a potential abuser is removed from access to minors resulting from suspicious behavior and/or inability to comply with organizational expectations or policies.
Report Out - The remedy whereby an alleged abuser is reported by a third party or victim and is removed from access to minors and placed under legal investigation.
"This was a surprisingly effective session. It motivated us to look beyond what we think we already know, to see many ways that we can improve our tactics to protect our campers. And it gives an excellent, organized approach to implement important changes over time. Our teacher was experienced, articulate and interesting. I would recommend this course to any organization serving children."

Gina Jansheski, MD, FAAP, Medical Director – The Painted Turtle, California  (ACA Accredited)
What is the Child Protection Plan (CPP) Seminar?
  www.kanakukchildprotection.org
The CPP Seminar is an 8 hour session for the purpose of training youth organizational leaders on the methodology, content and strategies necessary for implementing the CPP.   Participants will learn about abuse awareness, case studies, outdated information and tactics, CPP goals, discuss implementation strategies and self-assessment process, and receive sample forms, training content, a full color policy workbook and writeable CD.
Over 150 organizations nationwide have now received the training and resources provided through the Child Protection Plan Seminar. 
"Just wanted to thank you again for the Child Protection System workshop you led in Denver.  Our board and staff have embraced the new system we have developed from your material.  In fact after teaching two sessions here, some of the participants identified two potential abusers which prevented them from coming to our camp and even removing them from working in a church setting with children."  Seminar Attendee
Where was it developed?
The CPP was developed by Kanakuk Kamps under the direction of Rick Braschler, Senior Risk Consultant and the Director of Risk Management for Kanakuk Kamps.  Rick has over 20 years experience in insurance and risk management working with youth serving organizations.  The CPP was developed in response to Kanakuk's abuse experience, involving thousands of hours of team research, and based on sound guidance from industry experts.
How is it different from other safety systems or programs?
Drawing from the knowledge and expertise of industry and topical experts, the Child Protection Plan was then developed and assembled in-house to be doable, affordable and sustainable.  Rather than a list of forms and policies on a broad spectrum, the  CPP provides measurable initiatives to directly address root causes and contributing factors which are synonymous with episodes of organizational child abuse.
Therefore, solutions are designed to address specific concerns such as:  Why don't background checks accurately report prior deviant behavior?  What can a child, parent or staff do to recognize, resist and report suspicions or actions of abuse? Why don't bystanders report suspicious behavior? Will my hiring practices cause a would-be molester to "opt-out"? Why don't rules
that address inappropriate conduct work?  What is the difference between normal relationship building versus grooming behavior?   Why can't I tell the difference between a good person with good intentions, and a bad person with bad intentions?  Do my facilities create an unwelcoming presence for abuse activities?  Do I have insurance that covers this?  How long should I archive records, and what records should I keep? What types of acquaintance molesters are there, and how should I prevent or detect them?
The CPP consists of over 180 measurable protection elements to provide solutions to address these issues and more.
What is the Self-Assessment?
The CPP self-assessment enables youth organizations to determine their proficiency in relation to the protection elements.  Each element is scored based on a scale of Non-compliance, Partial Compliance, and Full Compliance. The scoring system was developed on a weighted scale to lend emphasis toward prevention and detection efforts.
Who should attend this seminar?
The CPP seminar is for board members, administrators, directors, and leaders of youth serving organizations responsible for managing facilities, directing operations, hiring staff, and supervising youth workers and volunteers.
2013 Seminar Calendar:
January 22            Colorado – Camp Idrahaje, Bailey Colorado
February 25          Oregon -  Aldersgate Retreat Center, Turner, Oregon
March 7                 Illinois -  Mid-States ACA Camp Conference, Pheasant Run Resort, St. Charles, Illinois
March 14               Missouri – Kanakuk Kamps, Branson, Missouri
March 19               California -  Rock Church, San Diego, California
March 25               California – Forest Home Camp, Forest Falls, California
April 9                    Texas -  Forest Glen Camp, Huntsville, Texas
September 26       Missouri – Big Cedar Lodge, Branson, Missouri
October 17           Texas -  Forest Glen Camp, Rosebud, Texas
November 8          New York -  Word of Life Conference Center, Schroon Lake, NY
December 13       Colorado – Glen Eyrie Conference Center, Colorado Springs, Colorado
2014 Seminar Calendar:
How do I register for the seminar?
Contact Kay Borror at 417-266-3335, or email to keborror@kanakuk.com for a registration form, or visit www.kanakukchildprotection.org
Legal Disclaimer
The Kanakuk Child Protection Plan is provided for informational purposes only and does not constitute legal advice or professional opinion on specific facts.  Information provided on this website or in Child Protection Seminars may not remain current or accurate, so recipients should use this information only as a starting point for their own independent research and analysis.  If legal advice or other expert assistance is required, the services of a competent professional should be sought.
  Presenters
Rick Braschler is a Senior Risk Consultant and Director of Risk Management for Kanakuk Kamps in Branson, Missouri.  Rick is a certified Risk Manager and has been a licensed insurance broker for over 20 years specializing in camps and outdoor recreation.  Rick has received certifications and/or training in Risk Management, OSHA, ServeSafe, National Pool Operators Association, Korem Random Actor Profiling, MinistrySafe Skillful Screening, Praesidium Abuse Risk Management, Commercial Insurance Forms and Coverage's, Food Service Management, and NOLS Wilderness Risk Management.  Rick is an author and speaker for the Christian Camp and Conference Association, Camp Business Magazine, John Brown University, and the Wilderness Risk Management Conference.  Rick also provides expert witness testimony on the topic of camp safety and risk management.  Rick is an avid outdoorsman, a sports enthusiast, a loving husband and the father of five.
Sherri Weiss currently serves as a Project Coordinator with Camp Risk Consulting. Sherri graduated with honors from St. Mary's College in Omaha, Nebraska and is a licensed Registered Nurse. Aside from her medical career, Sherri has experience in quality control, finance and business management.  As a Project Coordinator, Sherri is responsible for research, development, and implementation of strategies to meet the needs of youth serving organizations. In her current position she has had the privilege of working with youth serving organizations across the country aligning their policies and procedures with State & Federal statutes, as well as industry practices.
What people are saying:
"Our board and staff have embraced the new system we have developed from your material.  In fact after teaching two sessions, some of the participants identified two potential abusers which prevented them from coming to our camp and even removing them from working in a church setting with children."   Seminar Attendee 2012

"Your system worked.  We had an 'opportunistic acquaintance abuser' that made it through the screening phase and into our program.  However, our detection system caught him in early stage abuse tactics and our reporting and crisis protocols were in place.  Thanks for the knowledge, training and resources to help us protect our kids."               Seminar Attendee 2011
Dennis Queen, Superintendent, Mingo Valley Christian School, Tulsa, Oklahoma
"Let me say first, your CPP is clearly the best and most comprehensive treatment of the subject that I have come across in over 30 years of work in Christian Education.  I can and will recommend what you have done to my associates in Christian ministry. Furthermore, I think the issue is so under-treated that I would like to help get the word of your plan out to churches and schools."
Liz Eaton, HRManager Forest Home Youth Camp, Forest Falls, CA
"CTS Child Protection Plan has greatly impacted the ministry of Forest Home.  It has encouraged us to be vigilant to not only protect kids, but to make this an unsafe camp for predators.  We were challenged to evaluate everything from insurance coverage and facility design to training and abuse response.   We are so thankful for Rick, Sherry and the team at Circuitree who have led the charge in training and educating so many people to be aware of and accountable for preventing abuse.    We are grateful!
John Primrose, Director of HR & Ministry Services  Park Cities Presbyterian Church, Dallas, Tx
"Thanks for your time and all the very credible personal examples and practical and user-friendly materials.  This is one of the best trainings I have ever attended.  Some of the feedback I received from staff is 'it would almost be inappropriate if an organization did not have this training'."                                                                                                                       
Ken Hamilton, Director of Programming Camp Idrahaje, Bailey, Colorado
"We have had nothing but good comments about the seminar. I presented the seminar and what we covered to our board last night. They were amazed at the amount of information that was given. We also talked about doing it again next year. They were all for it, and were happy to think that we could be a part of this training." 
                                       
Ron Norton CIC/AAI |  Sr. Vice President K&K Insurance Group, Inc. – Leisure Unit, Fort Wayne, Indiana
"The camp/conference center industry has large dependency on criminal background checks – Necessary but clearly not the sole remedy to maintaining an operation that helps prevent child abuse.  The 122 steps of child abuse prevention your program offers sets the bar for this industry.  Understanding and identifying with the types of predators helps gain a great understanding of future actions and counteractions that can be taken in ways to limit or prevent abuse.  No operation in the camping universe will ever be risk free but I sure like the odds of the camp/conference center operations that goes through your program and implements your practices."
 Paul Thompson, Operations Manager Living Water Bible Camp  President of CCCA Wisconsin
"The value of what you offer is through the roof!  I paid $100 and got an easy how-to manual to follow, a 6 hour seminar, CD with all the information and an invitation to call you at any time.  I hate to sound  like an info-mercial but I would have paid $500 for all of that.  Kanakuk's Child Protection seminar opened my eyes to our vulnerability and gave me solutions to address the problem.  We literally changed camp procedures on the way home from the conference."                                                                                                         
 Andy Warken, Camp Director, Lake Geneva Camp and Conference Center, Wisconsin
"The Child Protection Plan Seminar was great!  Very insightful into the world of Child Abuse and Molestation.  This seminar gave very practical steps to start implementing the minute you get back to camp."   
Daisy Langston, Program Associate, Inspiration Hills Camp & Retreat Center, Iowa
"The Child Protection Plan Seminar was very well presented with an excellent handout book to take home and use.   Definitely was well worth our time and money."   
Craig Miller, Camp Program Manager, HoneyRock, Wheaton College, Illinois
"Thanks again for your vision in developing and offering this seminar for ministry leaders in the camping world. The material you are presenting is sobering, but empowers us to better steward and protect the young men and women with whom we work." 
To Register, contact Thecia Dixon at tldixon@kanakuk.com or call 417-266-3267